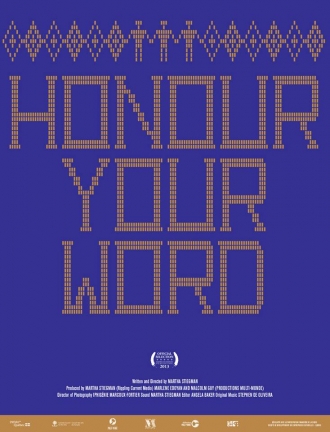 On June 12, at 7pm, we're pleased to be co-sponsoring an exciting event:
The location: the NSCAD University Academy Building (Rm. A-208), at 1649 Brunswick st., Halifax, NS
Map here: http://goo.gl/maps/mTT6U
FB Event page: https://www.facebook.com/events/250921178428306
In attendance: film-maker Martha Stiegman, local activist and scholar Sherry Pictou, and Cinema Politica co-founder Ezra Winton.
Honour Your Word is an intimate portrait of life behind the barricades for the Algonquins of Barriere Lake, an inspiring First Nation whose dignity and courage contrast sharply with the political injustice they face.
The title refers to their campaign slogan demanding Canada and Quebec honour a precedent-setting conservation deal signed in 1991. Director, Martha Stiegman, spent four years shooting this poetic, heartfelt documentary that challenges stereotypes of "angry Indians." Honour Your Word juxtaposes starkly contrasting landscapes—the majesty of the bush, a dramatic highway stand-off against a riot squad, daily life within the confines of the reserve—to reveal the spirit of a people for whom blockading has become an unfortunate part of their way of life, a life rooted in the piece of Boreal Forest they are defending.
The film draws us into the lives of two young leaders: Marylynn Poucachice, a mother of five, and Norman Matchewan, the soft-spoken son and grandson of traditional chiefs. Both spent their childhoods on the logging blockades their parents set up to win a sustainable development plan protecting their land. But it turns out signing the agreement was the easy part. Now, 20 years later, Norman and Marylynn are taking up the struggle of their youth, to force Canada and Quebec to honour their word.
Their fight may seem an impossible one, but as we spend time with Marylynn, Norman and the community they are so deeply a part of, we grow to identify with the impulse driving a struggle that spans generations. We learn why for people here, standing up is a necessity, not a choice – and what compels them to do so, despite the odds.
Screening Truth to Power: A Reader on Documentary Activism is a reflection on ten years of activities of the documentary screening non-profit Cinema Politica. Marking a transformative and inspiring decade of connecting audiences, artists and activists through provocative political film and video, Cinema Politica brings together diverse voices in this collection of essays, interviews, impressions and specially curated 'favourite docs' lists.
With analyses from filmmakers and academics like Shannon Walsh and Darrell Varga, and film and media scholars like Thomas Waugh and John Downing, lists of political documentary favorites from Kim Longinotto, John Greyson, and Sylvia D. Hamilton, among others, as well as reflections from a host of other docuphiles, doc critics and doc-theorists, Screening Truth to Poweris an eclectic and original contribution to literature on the genre.
This collection also reflects the mandate of Cinema Politica to seize upon documentary's transformational potential in order to advance progressive socio-political and ecological change. As such, the firebrand texts between these covers promises to engage, inspire, and activate.