Hit and Stay: A History of Faith and Resistance film (screening)
October 17, 2016 @ 6:30 pm

-

8:30 pm

|

Free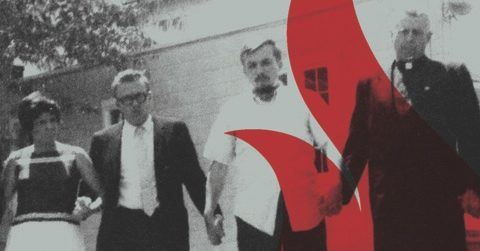 Join us for a free public film screening of
"Hit and Stay: A History of Faith and Resistance film screening"(2013, 97mins)
https://www.facebook.com/events/1799371680277092/
Room 301
https://www.cinemapolitica.org/film/hit-stay-history-faith-and-resistance
On May 17, 1968, nine Catholic activists entered a Selective Service office in suburban Catonsville, Maryland, dragged stacks of Draft Board records out into the parking lot, and set them on fire with homemade napalm. They then prayed, and waited to be arrested. In doing so, they kindled a wave of similar protests against the Vietnam War across the country that swept up dozens of participants and inspired thousands, and then millions. HIT & STAY, a new documentary film by Joe Tropea and Skizz Cyzyk tells the story of the Nine and those who joined them in protesting the war.
The Catonsville Nine action had been preceded by a quartet of activists—including Catonsville Nine participant, Father Philip Berrigan—splashing blood on draft files in nearby Baltimore. But it was Catonsville that galvanized the nonviolent antiwar resistance away from protest marches and toward direct actions by ordinary citizens against draft boards. This new form of protest quickly spread to similar actions in Washington, D.C., New York, Milwaukee, and all across the country, drawing the attention of the Federal Bureau of Investigation as well as the increasingly antiwar American public.
Through interviews with many of the participants (as well as observers ranging from linguist political critic Noam Chomsky to historian Howard Zinn), HIT & STAY explores the early actions, the activists going to prison or going underground, the FBI's pushback against the movement, the escalating scale and stakes, and the ultimate victory of the protesters in the trial of the Camden 28.
Admission is always free and films are all open to the public. Followed by moderated discusssion.
The Radical Imagination Project, in partnership with the Cinema Politica Network and the Halifax Public Libraries is pleased to bring you this series of documentary films to stir the sould and evoke the struggle for a better society. Please see our other events for more information, or visit http://radicalimagination.org/