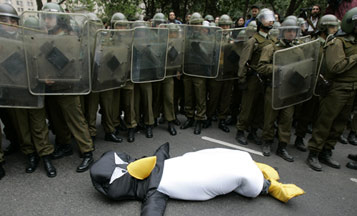 Application Deadline Extended!
The Radical Imagination Project is Hiring!
The Radical Imagination Project is a socially-engaged research initiative, based at Mount Saint Vincent University and the Nova Scotia College of Art and Design, dedicated to celebrating and enlivening radical ideas and practices in Halifax. We work collaboratively with social movements, conduct grounded participatory research, organize critical events and publish a variety of texts and media that strive to challenge conventions and open new horizons of social justice and solidarity.
We're seeking a part-time Research Assistant (RA) to join a new research project team working on issues of  gentrification and grassroots alternatives to it. The RA will participate in a variety of project-related tasks, including but not limited to:
Working closely with the project team to define, refine and evaluate the research plan
Attending community events on the Halifax peninsula
Conducting interviews with project participants
Contributing to project communication (including web design, archiving/coding, audio editing)
Contributing to the planning and logistics of events
Rate: $16/hr
Term: Part-time over two years for a total of approximately 100 hours, with the potential of more hours depending on funding. Hours are highly flexible.
Please note, this position requires the successful candidate be based in Halifax.
Start Date: Flexible, but ideally May 2015
Ideal applicants should:
Have some experience with critical or ethnographic social research
Be interested and/or involved in social justice and social change issues
Demonstrate a commitment to anti-oppressive and anti-racist practice
Have excellent general communication, analytical, and collaborative skills
Be willing to commit to a two-year tenure
Other useful skills and competencies would include:
Experience working with multiple diverse communities
Strong interpersonal skills and motivation
Experience in media or academic interviewing techniques
Experience in radio or other media
The Radical Imagination Project is committed to a social justice hiring and employment practice. All applications will be considered but strong preference will be given to applicants from marginalized constituencies, especially those from Mi'kmaq, Indigenous and African-Nova Scotian communities.
Please send a short cover letter and resume electronically (in .pdf format) to:
Alex Khasnabish and Max Haiven
Co-directors
Radical imagination Project
alex [dot] khasnabish [at] msvu [dot] ca
We will begin considering applications on May 25, 2015 with the process remaining open until the position is filled. Applicants will be contacted by email should they be selected for an interview. All applicants will be notified by email once the position has been filled.