White Ignorance and the Struggle Against Gentrification in Halifax, Past and Present
May 20, 2015 @ 6:00 pm

-

8:00 pm

|

Free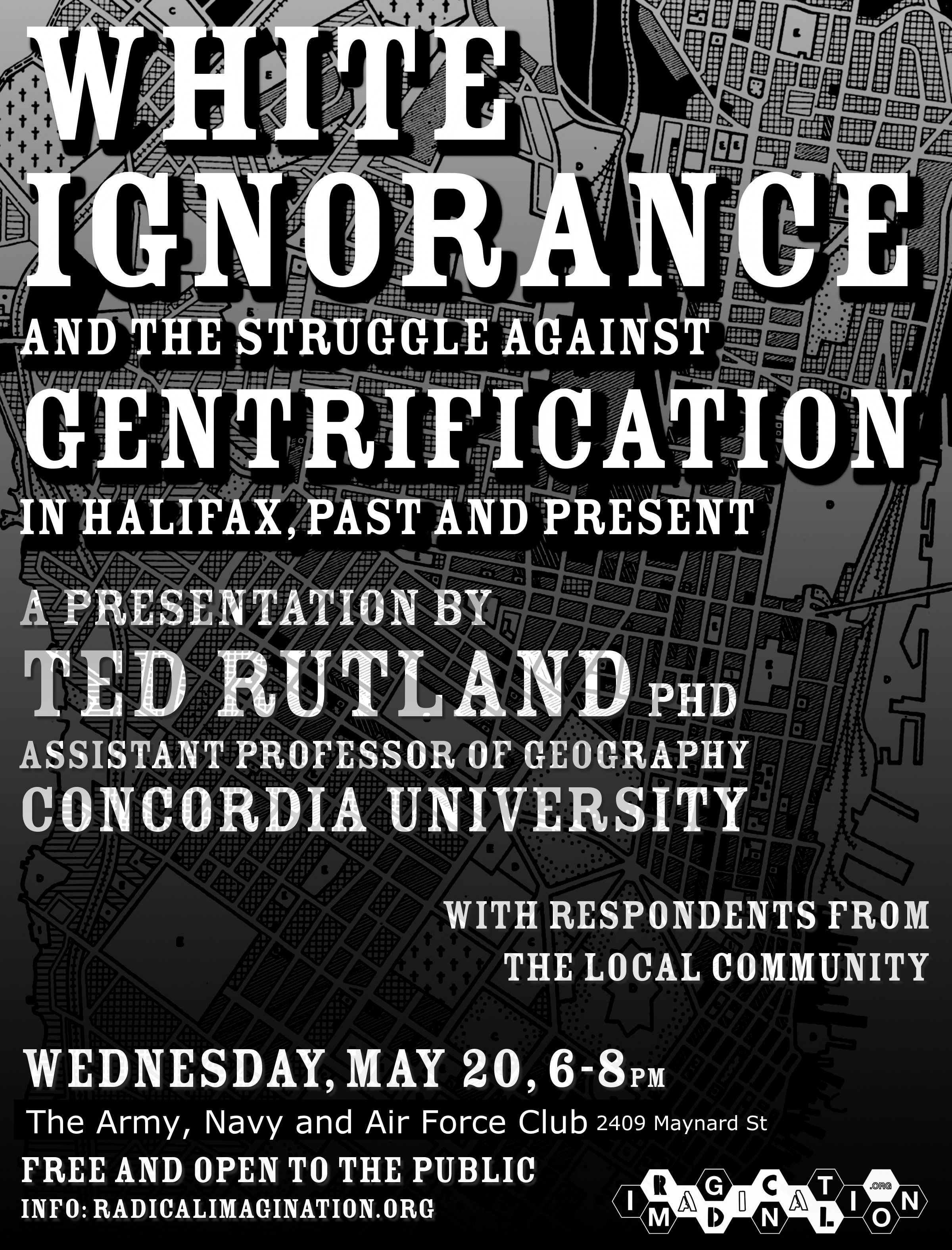 A presentation by Ted Rutland, Assistant Professor in the Department of Geography, Planning, and Environment at Concordia University, with responses from Ingrid Waldro, El Jones and Lynn Jones.
PLEASE NOTE: The new venue for the event is The Army Navy and Airforce Club at 2409 Maynard St
FB Event page: https://www.facebook.com/events/966641796708787
Overview:
Rutland's talk aims to enliven anti-gentrification struggles in the present through a critical look at the struggles of the past. Through gentrification per se began in the 1970s, similar processes of displacement (and resistance to it) have occurred in Halifax since its founding on unceded Mi'kmaw territory in 1749. Focusing on three historical moments, the talk will suggest that resistance to displacement has generally been weakened by white activists' failure to recognize the social specificity (rather than universality) of their experiences and interests – a weakness that could be overcome in present struggles through more concerted efforts to build anti-racism into anti-displacement activism.
About the speaker:
Ted Rutland is an assistant professor in the Department of Geography, Planning, and Environment at Concordia University in Montreal, and a member of the anti-police brutality collective Groupe d'action et de défense contre les abus policiers (GADAP). His research focuses on the racial politics of urban planning, housing, and policing in Canadian cities.
About the respondents:
Dr. Ingrid Waldron is an Assistant Professor in the School of Nursing at Dalhousie University. She holds a Ph.D. from the Sociology & Equity Studies in Education Department at the University of Toronto, a MA in Intercultural Education: Race, Ethnicity & Culture from the Institute of Education at the University of London (England) and a BA in Psychology from McGill University. She also completed a postdoctoral fellowship in the Faculty of Medicine at the University of Toronto. Dr. Waldron's scholarship focuses on the sociology of race and ethnicity, racism in psychiatry, the social determinants of health and environmental racism. She recently completed a multi-stage research project on the impact of gentrification and other social determinants on health and well-being in the African Nova Scotian community in the North End of Halifax.
El Jones is a spoken word activist and teacher. She was the two-time captain of the back-to-back national championship Halifax slam team in 2007 and 2008. El has performed all over Canada, including at the 10th Anniversary All-Star edition of When Sisters Speak in Toronto. Her poetry is particularly committed to political causes and social justice and has worked extensively with organizations around Halifax performing and presenting on issues of social change. She is dedicated to using poetry in prison outreach and youth engagement, and volunteers twice a week at Centerline Studio on the corner of Uniacke and Gottingen. El is current artistic director of Word Iz Bond Spoken Word Artist Collective and teaches at Dalhousie and Acadia Universities.