Debriefing Elsipogtog – Book Launch with author Miles Howe and guests
May 28, 2015 @ 6:30 pm

-

9:00 pm

|

Free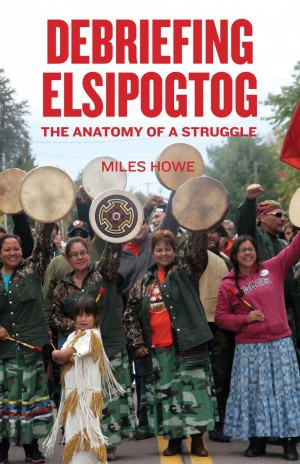 Facebook event page: https://www.facebook.com/events/1572701953011175/
Miles will be joined at the launch by front-line activists from the struggle against hydraulic fracturing in New Brunswick: Romeo Martin, Jason Augustine and Annie Clair. The panel will be chaired by Duma Christmas. [more information coming soon]
From the Fernwood Publishing's website:
In 2009, the New Brunswick provincial government leased over a million hectares of land to Texas-based Southwestern Energy for the purposes of natural gas extraction. For years, tens of thousands of New Brunswickers signed petitions, wrote letters, demonstrated and sought legal recourse against the deal — and the threat of hydraulic fracturing it brought with it — but the province responded only with diminished regulations and increased police presence. In the spring of 2013, Elsipogtog First Nation, the largest Indigenous community in New Brunswick, became the focal point of this resistance. Emboldened to its potential to make political change, and accompanied by unexpected settler and Indigenous allies, Elsipogtog First Nation employed new tactics in the effort to expel Southwestern Energy. And after months of blockades, which resulted in the destruction of company property and numerous arrests, the protestors were finally successful in forcing the gas giant to leave the province.

Written by journalist Miles Howe, who was embedded in the community from the beginning of the 2013 struggle, Debriefing Elsipogtog offers a riveting, firsthand, on-the-ground and behind-the-scenes account of this story. Through an examination of the political forces and motivations that led to one-seventh of New Brunswick being leased to the Texas-based company, the diminishment of regulatory oversight and a compromised Indigenous consultation process, Howe explores not only how people allied to build this movement but also how the state intervened to undermine resistance and willfully ignored inherent treaty rights and responsibilities.

The success of this grassroots movement in turning back the fifth-largest natural gas extraction company in North America is truly a testament to the power people hold when they join together to oppose capitalist exploitation and environmental destruction.