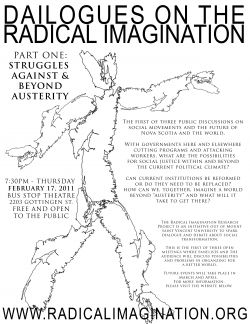 7:30pm, Thursday February 17 2011
Venue: The Bus Stop Theatre
Address: 2203 Gottingen St.
Cost: Free
The first of three public discussions on social movements and the future of Nova Scotia and the World.
With governments here and elsewhere cutting programs and attacking workers, what are the possibilities for social justice within and beyond the current political climate?
Can current institutions be reformed or do they need to be replaced?  How can we, together, imagine a world beyond "austerity" and what will it take to get there?
The Radical Imagination Research Project is an initiative out of Mount Saint Vincent University to spark dialogue and debate about social transformation.  This is the first of three open meetings where panelists and the audience will discuss possibilities and problems in organizing for a better world.  Future events will take place in March and April.