Canada in Africa book launch
October 15, 2015 @ 7:00 pm

-

9:00 pm

|

Free
Event Navigation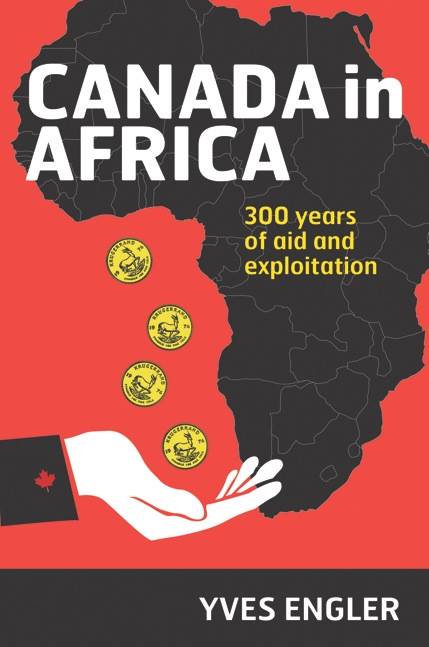 Facebook event: https://www.facebook.com/events/1651658325046792/
Join the Radical Imagination Project and the International Development Studies department at SMU for the launch of Yves Engler's newest book Canada in Africa: 300 Years of Aid and Exploitation.
October 15, 7pm, Dalhousie University Rowe Building, rm. 1009
Further details and speakers TBA.
Yves Engler continues his groundbreaking analyses of past and present Canadian foreign policy with Canada in Africa — 300 years of Aid and Exploitation. This work documents Canadian involvement in the transatlantic slave trade, "scramble for Africa", missionary movement and European colonialism. The book also reveals Ottawa's opposition to anticolonial struggles, support for apartheid South Africa and Idi Amin's coup as well as this country's role in ousting independence leaders Patrice Lumumba and Kwame Nkrumah.
Based on an exhaustive look at the public record as well as on-the-ground research, Canada in Africa shows how the federal government pressed African countries to follow neoliberal economic prescriptions, which have benefited numerous Canadian corporations, including mining companies that have bought up much of the continent's mineral resources, but are often bitterly resisted by local communities. The book also sheds light on Canada's role in the violence that has engulfed Somalia, Rwanda and the Congo and Canada's creeping military footprint on the continent. Finally, it points out that this country's near total indifference to the impact of global warming is tantamount to a death sentence for ever-growing numbers of Africans.
If you've ever wondered why 45% of Africans still live on less than one dollar a day you should read this book.
One of the great myths of Canadian history is that the nation has only been helpful to Africa and persons of Black/African heritage, whether serving as a refuge for fugitive slaves in the 19th century or denouncing South African apartheid in the 20th. Yves Engler writes with majestic clarity and daunting command about the truths of Canada's relations to Africa and Africans, from the slavery conducted colonially, from Upper Canada to Nouvelle-France to Nova Scotia, to the pollution of lands and impoverishment of peoples wrought by Canuck mining interests in Africa today. Beware! This book is upsetting, for it argues–with quite damning evidence–that Canada has been as much an imperialist abuser of human rights as have the European (and American) empires we so righteously–hypocritically– condemn. Engler needs to be read by everyone who desires Truth in political science and Humanitarianism in contemporary foreign policy.
– George Elliott Clarke, Ph.D., E.J. Pratt Professor of Canadian Literature University of Toronto, Author of Directions Home: Approaches to African-Canadian Literature

Canada in Africa reminds us that the draining of African blood through slavery and naked imperialism continues today through the draining of her resources. Yves Engler gives us a haunting chronicle of the bloodletting, destabilization and pillaging of Africa by agents and governments of Canada. This should be required reading for every human with a conscience and all those that desire to join the forces fighting for change.
– Nnimmo Bassey, former chair Friends of the Earth International and winner of the Right Livelihood Award ("Alternative Nobel Prize")
Dubbed "Canada's version of Noam Chomsky" (Georgia Straight), "one of the most important voices on the Canadian Left today" (Briarpatch), "in the mould of I. F. Stone" (Globe and Mail), "part of that rare but growing group of social critics unafraid to confront Canada's self-satisfied myths" ( Quill & Quire) , "ever-insightful" (rabble.ca), "Chomsky-styled iconoclast" (Counterpunch) and a "Leftist gadfly" (Ottawa Citizen), Yves Engler's published eight books.