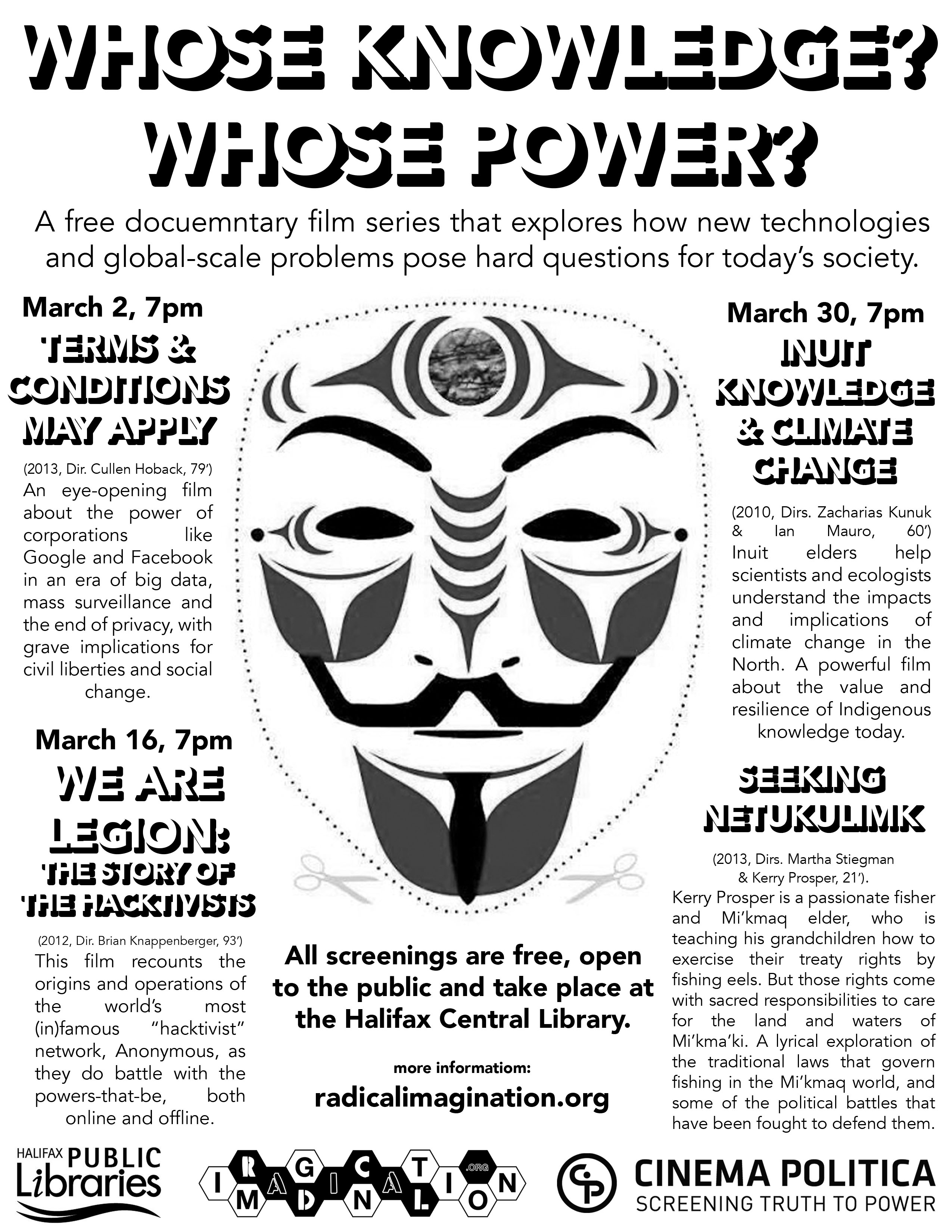 These documentary films explore the how new technologies and global-scale problems pose hard questions for today's society.
More information: 
http://radicalimagination.org/whose-knowledge-whose-power
All screenings are held at the new Central Branch of the Halifax Public Library at 7pm and are free and open to the public.
Schedule
About the Films
TERMS AND CONDITIONS MAY APPLY (2013, Dir. Cullen Hoback, 79′). No one really reads the terms and conditions connected to every website they visit, phone call they make or app they download. After watching this provocative exploration of what actually lies between the lines of those tiny-font agreements, however, you may just hurl your computer out the window and take to a cave. With fascinating examples, comical gags and terrifying facts, filmmaker Cullen Hoback investigates what governments and corporations are doing with your "personal" information. Regardless of privacy settings, data is being collected and behaviour is being monitored—as you read this, in fact—leaving the future of civil liberties uncertain. But are we really living in such a dystopian conspiratorial world? From whistle blowers and investigative journalists to zombie fan clubs and Egyptian dissidents, this disquieting exposé demonstrates how every one of us has incrementally opted into a real-time surveillance state, click by click.
WE ARE LEGION: THE STORY OF THE HACKTIVISTS (2012, Dir. Brian Knappenberger, 93′) takes us inside the complex culture and history of Anonymous. The film explores early hacktivist groups like Cult of the Dead Cow and Electronic Disturbance Theater, and then moves to Anonymous' own raucous and unruly beginnings on the website 4Chan.Through interviews with current members – some recently returned from prison, others still awaiting trial – as well as writers, academics and major players in various "raids," WE ARE LEGION traces the collective's breathtaking evolution from merry pranksters to a full-blown, global movement, one armed with new weapons of civil disobedience for an online world.
INUIT KNOWLEDGE AND CLIMATE CHANGE (2010, Dirs. Zacharias Kunuk & Ian Mauro, 60′). Nunavut-based director Zacharias Kunuk (Atanarjuat The Fast Runner) and researcher and filmmaker Dr. Ian Mauro (Seeds of Change) have teamed up with Inuit communities to document their knowledge and experience regarding climate change. This new documentary, the world's first Inuktitut language film on the topic, takes the viewer "on the land" with elders and hunters to explore the social and ecological impacts of a warming Arctic. This unforgettable film helps us to appreciate Inuit culture and expertise regarding environmental change and indigenous ways of adapting to it. Exploring centuries of Inuit knowledge, allowing the viewer to learn about climate change first-hand from Arctic residents themselves, the film portrays Inuit as experts regarding their land and wildlife and makes it clear that climate change is a human rights issue affecting this ingenious Indigenous culture. Hear stories about Arctic melting and how Inuit believe that human and animal intelligence are key to adaptability and survival in a warming world.
SEEKING NETUKULIMK (2013, Dirs. Martha Stiegman & Kerry Prosper, 21′). Kerry Prosper is a passionate fisher and Mi'kmaq elder, who is teaching his grandchildren how to exercise their treaty rights by fishing eels. But those rights come with sacred responsibilities to care for the land and waters of Mi'kma'ki. Seeking Netukulimk is a lyrical exploration of the traditional laws that govern fishing in the Mi'kmaq world, and some of the political battles that have been fought to defend them.